authelia
Introduction
Authelia is an open-source authentication and authorization server providing two-factor authentication and single sign-on (SSO) for your applications via a web portal. It acts as a companion for reverse proxies by allowing, denying, or redirecting requests.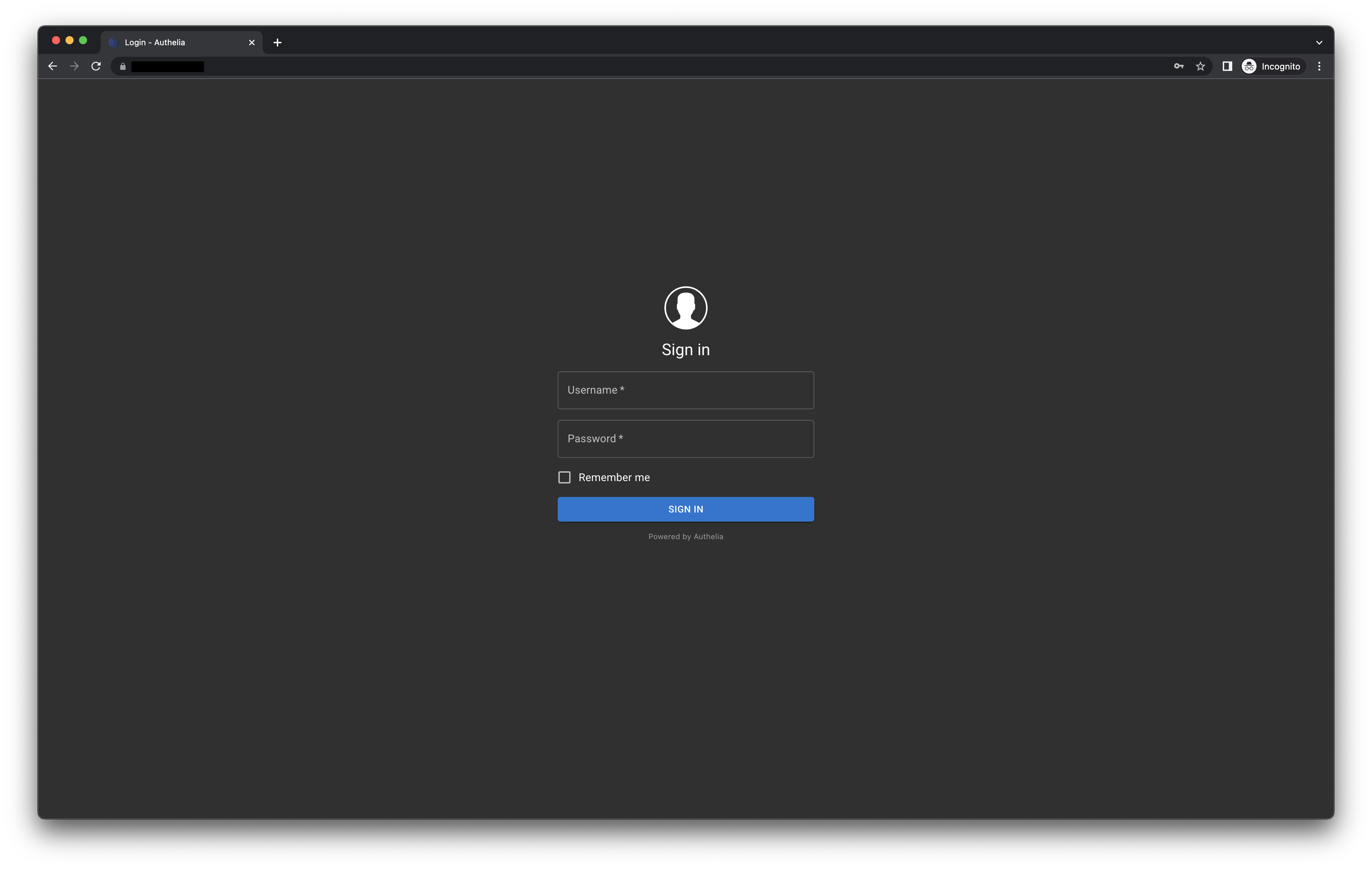 Authelia allows me to centralize the authentication part of nearly all deployed services into one neat web portal. It features a complex access control rule system and enables the usage of multi-factor authentication.
For every service which supports user authentication by HTTP headers or complete disablement of authentication, I configured Authelia as authentication layer using a Traefik middleware.
Example via Traefik Middleware

First a Middleware object needs to be created which defines the forwardAuth address and headers:

---




apiVersion

:

 

traefik.io/v1alpha1




kind

:

 

Middleware




metadata

:




  

name

:

 

auth




  

namespace

:

 

traefik




spec

:




  

forwardAuth

:




    

address

:

 

http://authelia.authelia.svc.cluster.local/api/verify?rd=https://auth.${DOMAIN_INTERNAL}




    

trustForwardHeader

:

 

true




    

authResponseHeaders

:




      

-

 

Remote-User




      

-

 

Remote-Groups




      

-

 

Remote-Name




      

-

 

Remote-Email




In order for the Middleware to take effect, it must be added to the middlewares section of any IngressRoute:

---




apiVersion

:

 

traefik.io/v1alpha1




kind

:

 

IngressRoute




metadata

:




  

name

:

 

dashboard




  

namespace

:

 

traefik




spec

:




  

entryPoints

:




    

-

 

https




  

routes

:




    

-

 

kind

:

 

Rule




      

match

:

 

Host(`traefik.${DOMAIN_INTERNAL}`)




      

services

:




        

-

 

kind

:

 

TraefikService




          

name

:

 

api@internal




      

middlewares

:




        

-

 

name

:

 

auth




          

namespace

:

 

traefik




        

-

 

name

:

 

security




          

namespace

:

 

traefik




        

-

 

name

:

 

optimizations




          

namespace

:

 

traefik




        

-

 

name

:

 

error-pages




          

namespace

:

 

traefik-errors




  

tls

:




    

secretName

:

 

traefik.${DOMAIN_INTERNAL}



Created Resources
Links